Temporary & Contract Staffing
You need staffing help and we've got your solution. Fluctuations in the marketplace and business demands require flexibility in staffing solutions. We specialize in finding the right talent you need to get the job done while balancing costs with demands. All of our candidates go through a rigorous screening and interviewing process. Let us take care of staffing so you can get back to growing your business.
Our top priorities are quick delivery, candidate quality and customer service. We locate top talent by using our database system, referrals and social networking presence. We can handle unexpected or unique temporary demands. We are also skilled at maintaining staffing flexibility in peak times.
We quickly fill positions with qualified candidates:
Seasonal peaks
Special projects
Flexible Staffing
Production ramp ups and ramp downs
Long term staffing
Unexpected staff shortage
Payroll Services
We've worked with a wide range of industries, including:
Professional
Manufacturing and Production
Hospitality
Food & Beverage
Medical
Transportation and Distribution
Our associates receive the following post-hire training: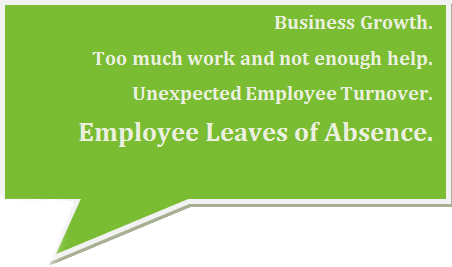 Temporary Staffing is not just in Southeast.

We are doing it nationally!